LOST MARBLES THEATRICSNicholas Nickleby
Director: Frances Way
Assistant Director: Wendy Metzger
August 28-30
STORY
Lost Marbles Theatrics is proud to present Nicholas Nickleby, by Tim Kelly, a comic delight from the pen of the great Charles Dickens.
Detailing the life and adventures of young Nicholas, it's a parade of colorful characters: wicked Uncle Ralph, stylish Madam Mantalini, pitiable Smike, lovely Madelaine Bray, scheming Lady Hawk, and the amazing Crummles with their seedy theatre troupe. Standing above all the villains is the infamous Wackford Squeers who, with his horrible wife and daughter, runs his dreadful school with his cane and tablespoons of foul-tasting medicine. A delightful blend of comedy, mystery, and melodrama, this play is certain to charm the audience with its bouncy spirit and vivid theatricality.
Streaming
Streaming on YouTube August 28-30, enter your email to receive the link when we go live!
Please consider donating to support Lost Marbles Theatrics: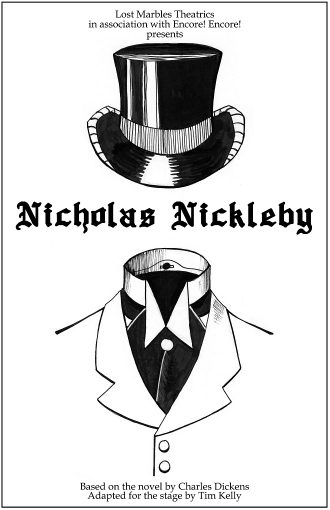 LMT 2020 Update
Thank you for your interest in Lost Marbles Theatrics' presentation of Nicholas Nickleby. Our show was scheduled to be performed at the Rialto Theater in Loveland the first weekend of April and was put on hold because of the COVID-19 shutdown. We hoped to reschedule it for late July, but it soon became apparent that a live performance this year just wasn't meant to be! After some creative thinking and much prayer, we decided to transform our show into one that could be filmed and streamed so we could share this wonderful production and bring some joy and entertainment to the world. Our homeschooled high school theater group of twenty-seven young people plus a dedicated staff has invested hundreds of hours, endured much disappointment and learned the true meaning of the word "flexible" to bring you this wonderful story. These students had to learn all new blocking in order to comply with current health and safety precautions (such as social distancing) and we are so very proud of them for their hard work, their team spirit and their dedication to their art. This "socially distant" show may look a little different than our usual offerings, but the heart and soul of Lost Marbles Theatrics remains strong. We hope that you will enter into the world of Charles Dickens with us and enjoy a delightful story about an unforgettable character named Nicholas Nickleby.
If you would like to watch our show, please click on the "get tickets" button to register. You will be emailed a private link to be able to stream our production. We will miss seeing you in the audience at the Rialto this year, but we hope that you will enjoy the show and ask that you consider donating to Lost Marbles Theatrics to help support this wonderful program and these awesome young people. Since we are missing out on ticket sales and program ad sales this year (our major source of income), we humbly ask you to consider donating to our program. The suggested donation per viewing is $10, but you are welcome to watch the show even if you can't afford to donate. To donate, simply click on the "Donate" button on the registration page. We thank you for watching and hope that our show brings you some joy and laughter and lightens your load in these dark times. As Charles Dickens said, "It is a fair, even-handed, noble adjustment of things, that while there is infection in disease and sorrow, there is nothing in the world so irresistibly contagious as laughter and good humour."